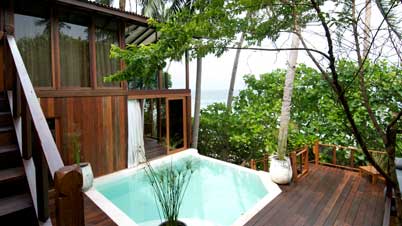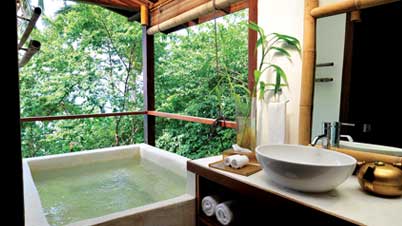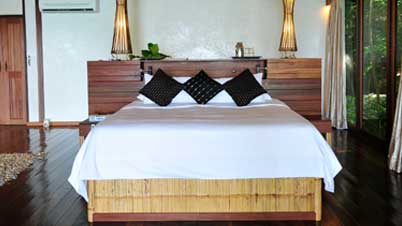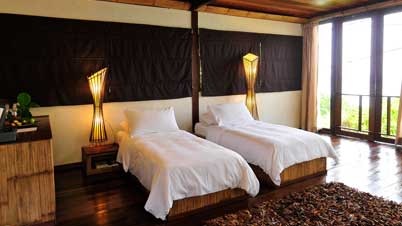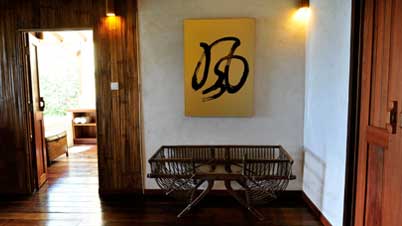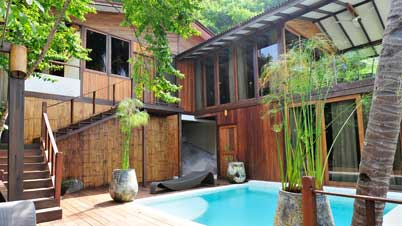 Please be advised that we are currently carrying out expansion works at the resort, near Penghulu House. Our artisans work the old-fashioned way and are mindful to keep noise levels to a minimum. Though as construction goes, you might hear some related noise. We apologise in advance. Should you find it disruptive, please let us know and we will do our best to keep it down.
With the beach at its doorstep and the jungle at its backyard, Penghulu's House is the resort's only two-storey, two-bedroom villa. It is designed to evoke the sense community within a village, and its rustic-luxe rooms are fitted with all the comforts of an urban home. Built around the natural environment, an ancient boulder has been left to furnish its interior, whilst its lofty windows offer striking views of the nature that surrounds it.
The Atas Residence (main bedroom) offers the luxury of a vast living space which opens out to a spectacular view of the sea.
Guests staying in the Bawah Residence (ground floor room) have direct access to the private swimming pool, just steps away from the foot of their two single beds.
Fun Fact: 'Penghulu' is the most important person in a Malay village. It means 'head of the people' and as the Tok Penghulu, he's therefore most respected.
Room Features

 
Air-conditioning and Ceiling Fans
32" Flat Screen Television and DVD player
Super Queen-sized Bed
Two Super Single Beds
Private Outdoor Plunge Pool
Indoor Wading Pool
Walk-in Wardrobe
Double Bathroom Vanities
Biodegradable bathroom amenities
Hair Dryer
Indoor Rain Shower
Kitchenette and Dining Area
Spacious Outdoor Deck with Tanning Beds
Mini Bar with Wines and Champagne
Espresso Machine
Newby Teas